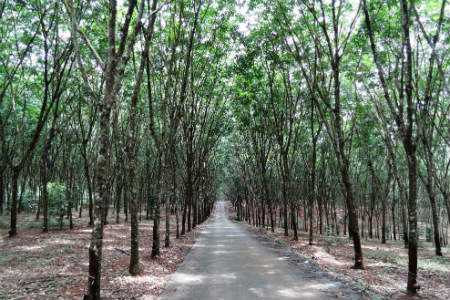 En Thaïlande, Eco&Sols est impliqué dans les Dispositifs en Partenariat « Hevea Research Platform in Partnership » (DP HRPP) et le Laboratoire Mixte International « Land Use changes and Soil Ecosystem Services » (LMI Luses) avec un focus particulier sur le fonctionnement de l'écosystème plantation d'hévéa.
Le HRPP
Eco&Sols est principalement impliquée dans le thème Agronomie, physiologie et environnement du HRPP. Depuis 2015, les recherches s'organisent autour du projet ANR Heveadapt qui étudie comment les facteurs biophysiques interagissent avec les facteurs socio-économiques pour déterminer la vulnérabilité ou l'adaptabilité des plantations familiales face aux changements globaux.
Ces recherches reposent sur un réseau d'observations et d'expérimentations, en particulier 3 sites fortement instrumentés (mesure des flux de carbone et d'eau, écophysiologie), 3 laboratoires de physiologie et d'écophysiologie, des essais à long terme sur l'adaptation au stress hydrique (Projet GHRYD) et sur la fertilisation (Projet Yara). Ces travaux en station sont complétés par des études en milieu réel pour suivre l'effet des transitions (forêt-plantation ou culture-plantation) et l'effet à long terme des plantations, en particulier sur les sols.
Contact Eco&Sols pour le HRPP Philippe Thaler
Le LMI LUSES
LUSES pour « Dynamic of Land Use changes and Soil Ecosystem Services » est un laboratoire mixte international de 7 partenaires asiatiques du Laos, de la Thaïlande et du Vietnam et deux instituts de recherche français, l'IRD et le CIRAD.
L'objectif de ce LMI est de consolider les capacités de recherche (formation, équipements, éducation) des partenaires sur l'impact environnemental de l'agriculture. C'est une démarche intégrée qui s'appuie sur une équipe pluridisciplinaire (pédologues, microbiologistes, biologistes du sol et des eaux, agronomes) et sur un réseau de partenariats entre les instituts d'Asie du Sud-Est et l'IRD, centré sur les interactions « sol-plante-eau » en milieu cultivé.

La page facebook du LMI Luses détaille toutes les actualités du LMI
Contact Eco&Sols pour le LMI LUSES Alain Brauman.
Les activités de LUSES depuis 2012 sont synthétisées dans un document téléchargeable en français et en anglais
Projets menés en Asie du Sud-Est
Partenaires
Publications
Clermont-Dauphin, C., Suvannang, N., Pongwichian, P., Cheylan, V., Hammecker, C., & Harmand, J.-M. 2016. Dinitrogen fixation by the legume cover crop Pueraria phaseoloides and transfer of fixed N to Hevea brasiliensis—Impact on tree growth and vulnerability to drought. Agriculture, Ecosystems & Environment, 217, 79–88. doi:10.1016/j.agee.2015.11.002
Herrmann L, Brau L, Robin A, Robain H, Wiriyakitnateekul W, Lesueur D. 2016 High colonization by native arbuscular mycorrhizal fungi (AMF) of rubber trees in small-holder plantations on low fertility soils in North East Thailand. Archives of Agronomy and Soil Science 62: 1041-1048
Herrmann L, Lesueur D, Brau L, Davison J, Jairus T, Robain H, Robin A, Vasar M, Wiriyakitnateekul W, Opik M 2016 Diversity of root-associated arbuscular mycorrhizal fungal communities in a rubber tree plantation chronosequence in Northeast Thailand. Mycorrhiza 26: 863-877
Kanpanon N., Kasemsap P., Thaler P., Kositsup B., Rattanawong R., Epron D. 2017. Large variation in carbon isotope composition of bulk leaf material of rubber trees from a germplasm collection: an opportunity for improving water use efficiency in breeding programs. Journal of Rubber Research 20(1), 58-70
Kanpanon N., Kasemsap P., Thaler P., Kositsup B., Gay F., Lacote R., Epron D. 2015. Carbon isotope composition of latex does not reflect temporal variations of photosynthetic carbon isotope discrimination in rubber trees (Hevea brasiliensis). Tree Physiology. doi: 10.1093/treephys/tpv070
Le Guen ME, Herrmann L, Robain H, Wiriryakitnateekul W, de Oliveira T, Robin A, Srimawong P, Brau L and Lesueur D 2017 Relevance of taking into account the fine scale soil variability to assess the effects of agricultural inputs on soil characteristics and soil microbial communities: a case study of biochar application in a rubber plantation in NE Thailand. Geoderma 305, 21-29
Siltecho, S., Hammecker, C., Sriboonlue, V., Clermont-Dauphin, C., Trelo-ges, V., Antonino, A. C. D., and Angulo-Jaramillo, R. 2015. Use of field and laboratory methods for estimating unsaturated hydraulic properties under different land uses, Hydrol. Earth Syst. Sci., 19, 1193-1207, doi:10.5194/hess-19-1193-2015
Sungthongwises K, Wongcharoen A, Promkhabut A and Lesueur D. 2015 Potential of native phosphate solubilizing bacteria isolated from the rhizosphere of economic crops and vermicast in Northeast Thailand to solubilize insoluble phosphates under in vitro conditions. International Journal of Environmental and Rural Development 5-2, 110-115.
Formations
Entre 2012 et 2015, 15 formations collectives ont été organisées par Eco&Sols à l'échelle du Laos, de la Thailande et du Vietnam qui ont mobilisé plus de 290 partenaires. En 2016, 3 formations sont prévues: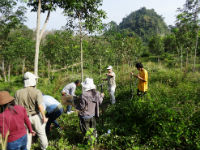 Mesure de l'activité microbienne dans les sols par la technique du MicroRespTM
Analyses statistique en ecologie
Comment rédiger un article en anglais.
Coordonnées et contact
This email address is being protected from spambots. You need JavaScript enabled to view it.
CIRAD Office, Kasetsart University, 10900 Bangkok, THAILAND
Tel: (+66) 2942 7627