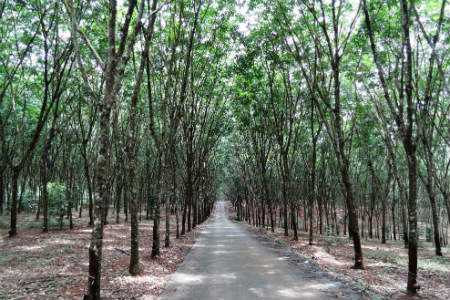 In south east Asia, Eco&Sols is involved with the joint « Hevea Research Platform in Partnership » (DP HRPP) and the Joint International Laboratory "« Land Use changes and Soil Ecosystem Services » (LMI Luses).
These two facilities study the 3 research themes of Eco&Sols, focusing in particular on the functioning of the rubber tree ecosystem in Thailand. Eco&Sols is involved in setting up simple field indicators to gain a better understanding of the relationship between biodiversity and function in agrosystems in Laos and Vietnam, and soon in Cambodia.
The HRPP
Eco&Sols is mainly involved in the HRPP Agronomics, physiology and environment activity. Since 2015, research has been organised around the National Research Agency Heveadapt project which studies how biophysical factors interact with socioeconomic factors to determine the vulnerability of family-run plantations and how they can adapt to global changes.
Research is based on a network of observatories and experimental sites, in particular 3 sites equipped with a high level of instrumentation to measure carbon and water flows and ecophysiological parameters, 3 physiology and ecophysiology laboratories, long term trials on the adaptation of rubber clones to water stress (GHRYD project) and on the use of fertilisers (Yara project). This research in experimental sites is complemented by field studies to monitor the effect of transitions (forest to plantation or crop to plantation) and the long term effect of plantations, in particular on the soils.
[accordion]
[item title="RubberFlux measurement site >"]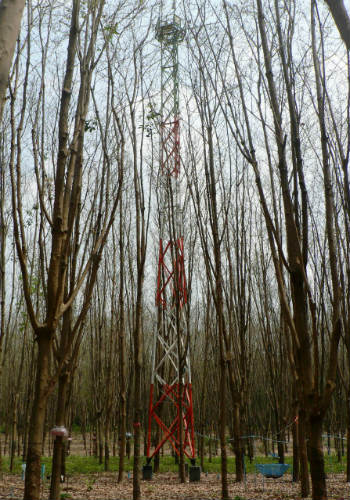 The Rubber Research Center (CRRC) of the Rubber Authority of Thailand (RAOT) is located in Chachoengsao. The RubberFlux site has a flux tower that belongs to Kasetsart University (KU), with an eddy-covariance measurement system and a weather station that belongs to CIRAD. The site also has equipment for monitoring water (soil and plant) at plot scale and for measuring respiration (soil and plants), photosynthesis and other ecophysiological parameters. It is part of the AsiaFlux regional network for measuring CO2 and water exchanges in terrestrial ecosystems and also part of the Forest ecosystem functioning (F-ORE-T) network set up by the SOERE (Observation and Experimentation for Environmental Research Systems) network.
[/item]
[/accordion]
[accordion]
[item title="The physiology laboratory of the Chachoengsao Rubber Research Center (CRRC) >"]
This laboratory has biochemical analysis equipment for studying latex functioning (latex diagnostics, enzymology), as well as for carbohydrate chain analysis. It has a 200 ha experimental plantation. Many other techniques (molecular biology, in vitro culture, etc) are made available by other partners of the DP HRPP.
[/item]
[/accordion]
[accordion]
[item title="Joint Laboratory of Biochemistry and Technology of Natural Rubber (LBTNR, CIRAD-KU) >"]
This laboratory is very well equipped to carry out biochemical analyses so that strong links can be established between the functioning of the tree and cultivation practices on the one hand and post-harvest and rubber properties on the other. Eco&Sols is particularly interested in studying C allocation using 13C isotopic analyses.
[/item]
[/accordion]
Eco&Sols HRPP contact Philippe Thaler
LUSES joint international laboratory
LUSES « Dynamic of Land Use changes and Soil Ecosystem Services » is a joint international laboratory with 7 Asian partners in Laos, Thailand and Vietnam and two French Research Institutes, the IRD and CIRAD.
This laboratory sets out to consolidate the research capacities (education, equipment, training) of its partners on the environmental impact of agriculture. This is an integrated approach based on a multi-disciplinary team (soil scientists, microbiologists, soil and water biologists and agronomists) and a network of institutes in south east Asia and the IRD, centred on soil-plant-water interactions in cultivated land.

The current news about the laboratory can be found on the LMI Luses facebook page
[accordion]
[item title="Reasons for setting up LUSES >"]
The fall in soil fertility owing to intensive monoculture in Thailand, the problems caused by polluted soils and water in Vietnam and landslides in Laos illustrate the current importance of the ecological challenges related to changes in soil use, which are critical in south east Asia which are the most densely populated areas in the world.
LUSES was set up to support local skills related to the preservation of the soil ecological functions. South east Asia is characterised by a high rate of land use change, the highest annual deforestation rate in the world and the unprecedented increase in commercial plantations. Land reform has given rise to major environmental problems in the region, in particular resulting in soil degradation and loss of biodiversity.
To meet these challenges, it has become urgent to strengthen the disciplines related to environmental sciences and agronomy within the academic systems in south east Asia. This has led to the creation of the LUSES joint international laboratory.
[/item]
[/accordion]
[accordion]
[item title="Scientific aims of LUSES >"]
Determine the environmental consequences of the intensification of farming practices which result from new demands from the international raw materials markets (biofuel, latex, wood, etc), a development which concerns relatively untouched natural ecosystems and agrosystems that are already degraded.
Identify management methods able to maintain or restore the provision of certain ecosystem services for which funding could be provided in the future (carbon sequestration, quality and quantity of water within catchment areas, biodiversity, mitigation of climate change, etc) to improve the quality of the environment, increase the revenues and ensure the wellbeing of farmers and populations in south east Asia.
[/item]
[/accordion]
[accordion]
[item title="Organisation of LUSES >"]
Joint French Research Units, UMR 210 - Eco&Sols, UMR 211 - Paris Ecology and Environmental Sciences Institute (IESS) and UMR 234 - Toulouse Geosciences Environment (GET)
Thai institutes: Soil and Biotech Office, Thailand International Cooperation Agency (TICA) and Land Development Departement (LDD)
Thai universities: Faculty of Agriculture, Khon Kaen University (KKU) and Kasetsart University (KU)
Laotian institutes and University: Agricultural Land Research Centre (ARCL), Department of Agricultural Land Management (DALaM) and Faculty of Agriculture of the National University of Laos
Vietnamese institutes: Soils and Fertilizers Research Institute (SFRI), Vietnam Academy of Agricultural Sciences and the Institute of Chemistry under the Vietnamese Academy of Science and Technology
Team leaders of LUSES
Alain Brauman - IRD - UMR Eco&Sols
Nopmanee Suvannang - Land Development Deparment (LDD) - Bangkok, Thaïlande
[/item]
[/accordion]
Eco&Sols contact for LMI LUSES Alain Brauman.
The activities undertaken by LUSES since 2012 are summarised in downloadable pdfs LMI LUSES Faits marquants (French) or LMI LUSES Highlights (English)
Projects underway in South-East Asia
IFC Fertilisation
GHRYD, Fertilisation
TICA : DORAS-Rubber
Partners
LDD
Prince of Songkla University
Rubber Authority of Thailand
Partenaires Laos, VN
Publications
Clermont-Dauphin, C., Suvannang, N., Pongwichian, P., Cheylan, V., Hammecker, C., & Harmand, J.-M. 2016. Dinitrogen fixation by the legume cover crop Pueraria phaseoloides and transfer of fixed N to Hevea brasiliensis—Impact on tree growth and vulnerability to drought. Agriculture, Ecosystems & Environment, 217, 79–88. doi:10.1016/j.agee.2015.11.002
Herrmann L, Brau L, Robin A, Robain H, Wiriyakitnateekul W, Lesueur D. 2016 High colonization by native arbuscular mycorrhizal fungi (AMF) of rubber trees in small-holder plantations on low fertility soils in North East Thailand. Archives of Agronomy and Soil Science 62: 1041-1048
Herrmann L, Lesueur D, Brau L, Davison J, Jairus T, Robain H, Robin A, Vasar M, Wiriyakitnateekul W, Opik M 2016 Diversity of root-associated arbuscular mycorrhizal fungal communities in a rubber tree plantation chronosequence in Northeast Thailand. Mycorrhiza 26: 863-877
Kanpanon N., Kasemsap P., Thaler P., Kositsup B., Rattanawong R., Epron D. 2017. Large variation in carbon isotope composition of bulk leaf material of rubber trees from a germplasm collection: an opportunity for improving water use efficiency in breeding programs. Journal of Rubber Research 20(1), 58-70
Kanpanon N., Kasemsap P., Thaler P., Kositsup B., Gay F., Lacote R., Epron D. 2015. Carbon isotope composition of latex does not reflect temporal variations of photosynthetic carbon isotope discrimination in rubber trees (Hevea brasiliensis). Tree Physiology. doi: 10.1093/treephys/tpv070
Le Guen ME, Herrmann L, Robain H, Wiriryakitnateekul W, de Oliveira T, Robin A, Srimawong P, Brau L and Lesueur D 2017 Relevance of taking into account the fine scale soil variability to assess the effects of agricultural inputs on soil characteristics and soil microbial communities: a case study of biochar application in a rubber plantation in NE Thailand. Geoderma 305, 21-29
Siltecho, S., Hammecker, C., Sriboonlue, V., Clermont-Dauphin, C., Trelo-ges, V., Antonino, A. C. D., and Angulo-Jaramillo, R. 2015. Use of field and laboratory methods for estimating unsaturated hydraulic properties under different land uses, Hydrol. Earth Syst. Sci., 19, 1193-1207, doi:10.5194/hess-19-1193-2015
Sungthongwises K, Wongcharoen A, Promkhabut A and Lesueur D. 2015 Potential of native phosphate solubilizing bacteria isolated from the rhizosphere of economic crops and vermicast in Northeast Thailand to solubilize insoluble phosphates under in vitro conditions. International Journal of Environmental and Rural Development 5-2, 110-115.
[accordion]
[item title="More publications >"]
Chairungsee N, Gay F, Thaler P, Kasemsap P, Thanisawanyangura P, Chantuma A, Jourdan C. 2013. Impact of tapping and soil water status on fine root dynamics in a rubber tree plantation in Thailand. Frontiers in Plant Science 4, 538 1-11. DOI 10.3389/fpls.2013.00538.
Satakhun D., Gay F., Chairungsee N., Kasemsap P., Chantuma P., Thanisawanyangkura S., Thaler P., Epron, D. 2013. Soil CO2 efflux and soil carbon balance of a tropical rubber plantation. Ecological Research 28, 969–979. DOI 10.1007/s11284-013-1079-0.
Chantuma P, Lacointe A., Kasemsap P., Thanisawanyangkura S., Gohet E., Clément A., Guilliot A., Améglio T. and Thaler P. 2009. Carbohydrate storage in wood and bark of rubber trees submitted to different level of C demand induced by latex tapping. Tree Physiology 29, 1021–1031
Kositsup B., Montpied P., Kasemsap P., Thaler P., Améglio T. and Dreyer E. 2009. Photosynthetic capacity and temperature response of photosynthesis and acclimation to growth temperature in rubber tree (Hevea brasiliensis Muell.Arg.). Trees, Structure and Function 23, 357-365.
[/item]
[/accordion]
Educational courses
Between 2012 and 2015, 15 joint courses were organised by Eco&Sols in Laos, Thailand and Vietnam involving more than 290 partners. Three courses are scheduled for 2016:
Measuring soil microbial activity using MicroRespTM
Statistical ecological analyses
Writing an article in English
Contact
This email address is being protected from spambots. You need JavaScript enabled to view it.
CIRAD Office, Kasetsart University, 10900 Bangkok, THAILAND
Tel: (+66) 2942 7627