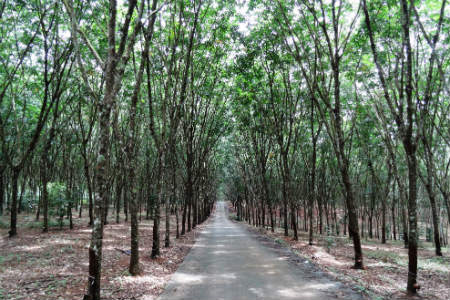 In south east Asia, Eco&Sols is involved with the joint « Hevea Research Platform in Partnership » (DP HRPP) and the Joint International Laboratory "« Land Use changes and Soil Ecosystem Services » (LMI Luses).
These two facilities study the 3 research themes of Eco&Sols, focusing in particular on the functioning of the rubber tree ecosystem in Thailand. Eco&Sols is involved in setting up simple field indicators to gain a better understanding of the relationship between biodiversity and function in agrosystems in Laos and Vietnam, and soon in Cambodia.
The HRPP
Eco&Sols is mainly involved in the HRPP Agronomics, physiology and environment activity. Since 2015, research has been organised around the National Research Agency Heveadapt project which studies how biophysical factors interact with socioeconomic factors to determine the vulnerability of family-run plantations and how they can adapt to global changes.
Research is based on a network of observatories and experimental sites, in particular 3 sites equipped with a high level of instrumentation to measure carbon and water flows and ecophysiological parameters, 3 physiology and ecophysiology laboratories, long term trials on the adaptation of rubber clones to water stress (GHRYD project) and on the use of fertilisers (Yara project). This research in experimental sites is complemented by field studies to monitor the effect of transitions (forest to plantation or crop to plantation) and the long term effect of plantations, in particular on the soils.
Eco&Sols HRPP contact Philippe Thaler
LUSES joint international laboratory
LUSES « Dynamic of Land Use changes and Soil Ecosystem Services » is a joint international laboratory with 7 Asian partners in Laos, Thailand and Vietnam and two French Research Institutes, the IRD and CIRAD.
This laboratory sets out to consolidate the research capacities (education, equipment, training) of its partners on the environmental impact of agriculture. This is an integrated approach based on a multi-disciplinary team (soil scientists, microbiologists, soil and water biologists and agronomists) and a network of institutes in south east Asia and the IRD, centred on soil-plant-water interactions in cultivated land.

The current news about the laboratory can be found on the LMI Luses facebook page
Eco&Sols contact for LMI LUSES Alain Brauman.
The activities undertaken by LUSES since 2012 are summarised in downloadable pdfs LMI LUSES Faits marquants (French) or LMI LUSES Highlights (English)
Projects underway in South-East Asia
Partners
Publications
Clermont-Dauphin, C., Suvannang, N., Pongwichian, P., Cheylan, V., Hammecker, C., & Harmand, J.-M. 2016. Dinitrogen fixation by the legume cover crop Pueraria phaseoloides and transfer of fixed N to Hevea brasiliensis—Impact on tree growth and vulnerability to drought. Agriculture, Ecosystems & Environment, 217, 79–88. doi:10.1016/j.agee.2015.11.002
Herrmann L, Brau L, Robin A, Robain H, Wiriyakitnateekul W, Lesueur D. 2016 High colonization by native arbuscular mycorrhizal fungi (AMF) of rubber trees in small-holder plantations on low fertility soils in North East Thailand. Archives of Agronomy and Soil Science 62: 1041-1048
Herrmann L, Lesueur D, Brau L, Davison J, Jairus T, Robain H, Robin A, Vasar M, Wiriyakitnateekul W, Opik M 2016 Diversity of root-associated arbuscular mycorrhizal fungal communities in a rubber tree plantation chronosequence in Northeast Thailand. Mycorrhiza 26: 863-877
Kanpanon N., Kasemsap P., Thaler P., Kositsup B., Rattanawong R., Epron D. 2017. Large variation in carbon isotope composition of bulk leaf material of rubber trees from a germplasm collection: an opportunity for improving water use efficiency in breeding programs. Journal of Rubber Research 20(1), 58-70
Kanpanon N., Kasemsap P., Thaler P., Kositsup B., Gay F., Lacote R., Epron D. 2015. Carbon isotope composition of latex does not reflect temporal variations of photosynthetic carbon isotope discrimination in rubber trees (Hevea brasiliensis). Tree Physiology. doi: 10.1093/treephys/tpv070
Le Guen ME, Herrmann L, Robain H, Wiriryakitnateekul W, de Oliveira T, Robin A, Srimawong P, Brau L and Lesueur D 2017 Relevance of taking into account the fine scale soil variability to assess the effects of agricultural inputs on soil characteristics and soil microbial communities: a case study of biochar application in a rubber plantation in NE Thailand. Geoderma 305, 21-29
Siltecho, S., Hammecker, C., Sriboonlue, V., Clermont-Dauphin, C., Trelo-ges, V., Antonino, A. C. D., and Angulo-Jaramillo, R. 2015. Use of field and laboratory methods for estimating unsaturated hydraulic properties under different land uses, Hydrol. Earth Syst. Sci., 19, 1193-1207, doi:10.5194/hess-19-1193-2015
Sungthongwises K, Wongcharoen A, Promkhabut A and Lesueur D. 2015 Potential of native phosphate solubilizing bacteria isolated from the rhizosphere of economic crops and vermicast in Northeast Thailand to solubilize insoluble phosphates under in vitro conditions. International Journal of Environmental and Rural Development 5-2, 110-115.
Educational courses
Between 2012 and 2015, 15 joint courses were organised by Eco&Sols in Laos, Thailand and Vietnam involving more than 290 partners. Three courses are scheduled for 2016:
Measuring soil microbial activity using MicroRespTM
Statistical ecological analyses
Writing an article in English
Contact
This email address is being protected from spambots. You need JavaScript enabled to view it.
CIRAD Office, Kasetsart University, 10900 Bangkok, THAILAND
Tel: (+66) 2942 7627