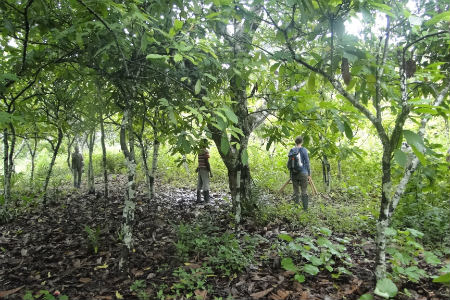 Eco&Sols has recently moved to the World Agroforestry Centre (ICRAF) in Cameroon. The research studies the functioning of agroforestry systems based on permanent crops, mainly cocoa.
The activities of Eco&Sols at the ICRAF form part of the CIRAD Cameroon agroforestry research platform (DP Agroforesterie Cameroun).
The sustainability of agroforestry systems based on cocoa is analysed by focusing on the production services, nutrient cycle and carbon storage.
An important aspect is the characterisation of the ecological functions of the various species of shade tree in particular the use of resources and interactions with the cocoa trees.
These studies are based on a network of small farm plots set up as part of the SAFSE (Trade-offs between production and ecosystem services provided by tropical agroforestry systems) project, in particular in the transition zone between forest and savannah in the Central Region around Bokito.
Projects underway in Cameroon
Partners
ICRAF (World Agroforestry Centre)
IRAD (Institut de la Recherche Agricole pour le Développement)
Université de Dschang
IITA (International Institute of Tropical Agriculture)
Publications
Yemadje, P.L., Guibert, H., Blavet, D., Olina, J.-P., Chevallier, T., Deleporte, P., Bernoux, M. (2015): 24-h variation in soil respiration after a long dry season in a Sudano-Sahelian region. Scientia Agrícola 72, 452-458.
Yemadje, P.L., Guibert, H., Chevallier, T., Deleporte, P., Bernoux, M. (2016): Effect of biomass management regimes and wetting-drying cycles on soil carbon mineralization in a Sudano-Sahelian region. Journal of Arid Environments 127, 1-6.
Yemadje, P.L., Chevallier T., Guibert H., Bertrand I., Bernoux M. (2017) Wetting-drying cycles do not increase organic carbon and nitrogen mineralization in soils with straw amendment, Geoderma http://dx.doi.org/10.1016/j.geoderma.2016.06.023
Contact
This email address is being protected from spambots. You need JavaScript enabled to view it., CIRAD
ICRAF (World Agroforestry Centre), P.O. Box 16317, Yaoundé, CAMEROUN
Bureau (+237) 222 21 50 84