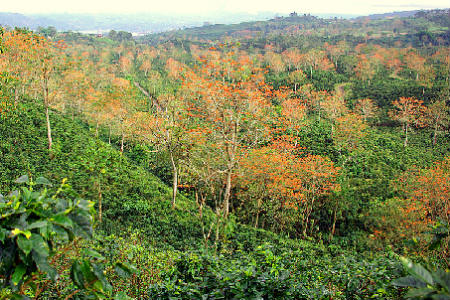 Eco&Sols au Costa Rica est accueilli sur le site du CATIE (Centro Agronómico de Investigación y Ensenanza). On étudie sur ce site les systèmes agro forestiers Café - culture pérenne.
Le CATIE possède, dans le cadre de l'observatoire Coffee-Flux, une tour de mesure de flux, équipée d'un dispositif de mesure d'eddy-covariance ainsi que d'un suivi hydrique (sol et plante) à l'échelle de la parcelle et hydrologique à l'échelle du bassin-versant. Le site inclut des parcelles de manipulation des engrais en combinaison avec l'ombrage (4 niveaux) et un monitoring des émissions de N2O et CO2 du sol par chambres automatiques. Le site fait partie du réseau des Systèmes d'Observation et d'Expérimentation, sur le long terme, pour la Recherche en Environnement (SOERE) - Fonctionnement des écosystèmes forestiers F-ORE-T et postule au réseau ANAEE en collaboration avec le site frère de Tarrazu et l'essai agroforestier x management du CATIE.
Le CATIE dispose d'un laboratoire d'analyse de routine des sols (préparation des sols, analyses classiques : Ksat, pF, texture, MO, N minéral, pH, propriétés d'échange). Les équipements nécessaires aux fractionnements granulométriques et granulo-densimétriques et aux incubations de sol pour mesurer des activités microbiennes, sont disponibles. Le CATIE dispose également d'un laboratoire de télédétection (Système Information Géographique) et d'un laboratoire sur les changements globaux.
Projets menés au Costa Rica
Partenaires
Aquiares farm: MSc. Don Alfonso Robelo (CEO); MSc. Diego Robelo; MSc. Guillermo Ramirez; MSc. Rafael Vargas; MSc.Manuel Jara; MSc. Alonso Barquero
CATIE: Prof. Francisco Jiménez; Prof. Jeffrey Jones; Prof. Nelly Vasquez; Prof. Tamara Benjamin; Prof. Pablo Imbach; PhD std Luis Molina; MSc. Patricia Leandro
UNA-Stable Isotope Research Group: Universidad Nacional, Heredia Costa Rica. Ricardo Sánchez-Murillo; Kristen Welsh.
World Meteorological Organization (WMO, Costa-Rica): Dr. Federico Gómez-Delgado
Instituto Costarricense de Electricidad (ICE, Costa-Rica): Dr. Federico Gómez-Delgado
Des universités et centre de Recherche en France et à l'étranger
. CIRAD : Dr. Anne Clément-Vidal
. Idaho University (USA) : Dr. Lee Vierling; Dr. Jan Eitel; Prof. Jan Boll
. Swedish University of Agricultural Sciences (SLU): Prof. Anders Malmer; Dr. Ulrik Ilstedt
. UMR iEES : Dr. Christian Valentin; Dr. Christian Hartmann
. UMR ISPA: Jean-Marc Bonnefond, Dr. Denis Loustau, Dr. Delphine Picart, Prof. Jean-Christophe Domec
. UMR-AMAP, Montpellier : Dr. Jean Dauzat; Dr. Alexia Stokes; Dr. Hervé Rey; Dr. Thierry Fourcaud; Dr. John Kim
. UMR-CEFE, Montpellier : Dr. Catherine Roumet; Dr. Ivan Prieto-Aguilar
. UMR-EEF, INRA Nancy : Dr. Erwin Dreyer (Président de Centre INRA);
. UMR-LISAH, INRA Montpellier : Dr. Roger Moussa, Dr. Yves Le Bissonnais, Dr. Marc Voltz
. UMR-PIAF, INRA Clermont-Ferrand : Dr. André Lacointe
. University of Copenhagen: Prof. Anders Priemé; Prof. Bo Elberling; Dr. Rasmus Kjoller.
. University of Macquarie NSW-Australia: Dr. Belinda Medlyn.
. University of Oslo: Prof. Lars Gottschalk; Dr. Irina Krasovskaia; Prof. Nils Roar
. University of Toronto: Dr. Marney Isaac
. University of Viçosa, Brazil: Prof. Fabio Da Matta; PhD std. Junior Pastor Perez Molina
. University of Western Sydney-Australia: Dr. Remko Duursma
Publications
Kinoshita R, Roupsard O, Chevallier T, Albrecht A, Taugourdeau S, Ahmed Z, van Es HM. 2016. Large topsoil organic carbon variability is controlled by Andisol properties and effectively assessed by VNIR spectroscopy in a coffee agroforestry system of Costa Rica. Geoderma, 262: 254-265. http://dx.doi.org/10.1016/j.geoderma.2015.08.026
Sánchez-Murillo R, Birkel C, Welsh K, Esquivel-Hernández G, Corrales-Salazar J, Boll J, Brooks E, Roupsard O, Sáenz-Rosales O, Katchan I, Arce-Mesén R, Soulsby C, Araguás-Araguás LJ. 2016. Key drivers controlling stable isotope variations in daily precipitation of Costa Rica: Caribbean Sea versus Eastern Pacific Ocean moisture sources. Quaternary Science Reviews, 131, Part B: 250-261. http://dx.doi.org/10.1016/j.quascirev.2015.08.028
Benegas, L., Ilstedt, U., Roupsard, O., Jones, J.R., Malmer, A., 2014. Effects of trees on infiltrability and preferential flow in two contrasting agroecosystems in Central America. Agric. Ecos. Envir. , 185-196.

http://dx.doi.org/10.1016/j.agee.2013.10.027

Charbonnier, F., le Maire, G., Dreyer, E., Casanoves, F., Christina, M., Dauzat, J., Eitel, J.U.H., Vaast, P., Vierling, L.A., Roupsard, O., 2013. Competition for light in heterogeneous canopies: Application of MAESTRA to a coffee (Coffea arabica L.) agroforestry system. Agricultural and Forest Meteorology 181, 152-169. http://dx.doi.org/10.1016/j.agrformet.2013.07.010

Gómez-Delgado, F., Roupsard, O., le Maire, G., Taugourdeau, S., Perez, A., van Oijen, M., Vaast, P., Rapidel, B., Harmand, J.M., Voltz, M., Bonnefond, J.M., Imbach, P., Moussa, R., 2010. Modelling the hydrological behaviour of a coffee agroforestry basin in Costa Rica. Hydrol. Earth Syst. Sci. 15, 369-392. www.hydrol-earth-syst-sci.net/15/369/2011/doi:10.5194/hess-15-369-2011

Prieto I, Roumet C, Cardinael R, Dupraz C, Jourdan C, Kim JH, Maeght JL, Mao Z, Pierret A, Portillo N, Roupsard O, Thammahacksa C, Stokes A. 2015. Root functional parameters along a land-use gradient: evidence of a community-level economics spectrum. Journal of Ecology, 103: 361-373. DOI : 10.1111/1365-2745.12351

Taugourdeau, S., le Maire, G., Avelino, J., Jones, J.R., Ramirez, L.G., Jara Quesada, M., Charbonnier, F., Gómez-Delgado, F., Harmand, J.-M., Rapidel, B., Vaast, P., Roupsard, O., 2014. Leaf area index as an indicator of ecosystem services and management practices: An application for coffee agroforestry. Agriculture, Ecosystems & Environment 192, 19-37. http://dx.doi.org/10.1016/j.agee.2014.1003.1042.

Coordonnées et contact
Cette adresse e-mail est protégée contre les robots spammeurs. Vous devez activer le JavaScript pour la visualiser.
CATIE 7170, Apartado 3, Cartago, Turrialba, Turrialba 30501 COSTA RICA
Cel. (506) 86 05 09 85, Fax. (506) 25 56 30 18