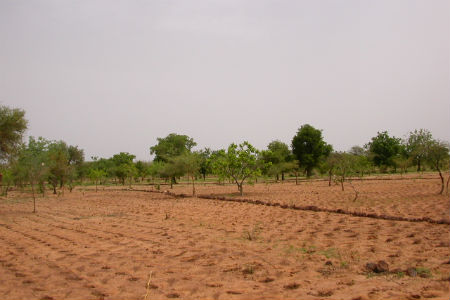 Eco&Sols is represented in West Africa through the Joint International Laboratory "Ecological Intensification of Cultivated Soils in West AFrica" and LMI IESOL which brings together teams from IRD, CIRAD, ISRA, UCAD, De Thiès University, INERA and University of Ouagadougou Dakar (Senegal) and Ouagadougou (Burkina Faso).
LMI IESOL is a scientific, technical and educational platform for the application of soil sciences to increase agricultural production and preserve the environment. Its aim is to contribute to the development of ecological engineering for the sustainable management of cultivated soil and agrosystems and the intensification of their productivity.
The research themes of Eco&Sols are studied in West Africa in
agroforestry systems where dry zone cereals are cultivated
rain systems for annual crops which are predominantly cereals grown in association with legumes and
peri-urban systems where residual organic products are used as fertiliser for market garden crops.

In Dakar, Eco&Sols has a research facility on the IRD/ISRA Bel Air campus (Laboratory of Soil Microbial Ecology and Tropical Agrosystems, LEMSAT), which is certified to ISO 9001 and has 3 specialist laboratories for characterising the biological state of soils and assessing the effect of soil management methods on microbial biodiversity:
This laboratory focuses on the development of modern genetic tools to characterise the biological state of soils. The analyses are carried out using specific genetic techniques to characterise the abundance, structure, and total and functional diversity of soil microbial communities.

Equipment

2 Applied Biosystems thermal cyclers (PCR)
1 StepOne thermal cycler (real-time PCR)
Ingeny PCR-DGGE system (fingerprinting)
1 NanoDrop 2000 Spectrophotometer (measuring nucleic acid concentrations)
1 Gel Doc XR imaging system

Capabilities

Extraction of nucleic acids
Characterisation of the soil microbial community structure (PCR-DGGE)
Characterisation of the diversity of soil microbial communities (PCR, cloning, high speed sequencing)
Characterisation of the abundance or density of soil microbial communities (real time PCR: qPCR)
Soil microbiology: culture of bacteria and soil fungi

Team leaders

Mariama Gueye and Lamine Dieng
This laboratory concentrates on measuring and quantifying potential biological activities, mineral elements and organic compounds in soils and plants. The analyses range from measuring global enzyme activity, catabolic activities, C and N mineralization and phospholipid fatty acids to the characterisation of organic matter using the Van Soest solubilisation method.

Equipment

Continuous flow analyser (Seal) for measuring mineral N: Ammonium (NH4-NO3), nitrates-nitrites (NO3-NO2)
Spectrophotometer for enzyme assays
Gaseous phase chromatographs for basal respiration and phospholipid fatty acid (PLFA) analysis
Automatic methane potential test system (AMPTS)

Capabilities

Measuring mineral N
Microbial biomass (Fumigation – Extraction)
Total enzyme activity assays
Phospholipid fatty acid (PLFA) analysis
Density fractionation of soil organic matter
Basal respiration
Biomethane potential (BMP) measurement
Near infrared spectroscopy (NIRS) for studying chemical, biological and physical soil properties
Determining the biomethane potential of substrates (for biogas)

Team leader

Moustapha Sané
This laboratory identifies and counts soil nematodes. It also analyses the density and trophic structure.

Equipment

Elutriator
Microscope

Capabilities

Extraction of nematodes by elutriation
Fixing nematodes in formaldehyde, propionic acid and glycerol (FPG)
Identification and quantification of trophic groups

Team leaders

Omar Ba and Djibril Djigal
Eco&Sols also uses the services of the IRD LAMA (LAboratoire des Moyens Analytiques) analysis laboratory in Dakar (US191), which undertakes standard physical and chemical analyses of soils, water and plants.
Projects undertaken in West Africa
Partners
ISRA, Senegal Agricultural Research Institute, Dr. Yacine Ndour
Ouagadougou University, Dr. Edmond Hien
UCAD, Cheick Anta Diop University, Dakar
ENSA, National Higher School of Agriculture, Thiès University
INERA, Environmental Institute for Agricultural Research of Burkina Faso
CIRAD (www.cirad.fr)
IRD Sénégal, Burkina Faso
UGB, Gaston Berger University, Saint Louis
Ohio State University (USA)
Wageningen University (NL)
Nangui Abrogoua University, Abidjan
Publications
Bright M.B.H., Diedhiou I., Bayala R., Assigbetsé K., Chapuis-Lardy L., Ndour Y, R.P. Dick 2017 Long-term Piliostigma reticulatum intercropping in the Sahel: Crop productivity, carbon sequestration, nutrient cycling, and soil quality. Agriculture, Ecosystems and Environment 242 (2017) 9–22
Der S., E. Hien, K. Assigbetsé, J.J. Drevon & D. Masse 2016 Legume and cereal Cropping in Zaï System with different organo-mineral amendments – Productivity properties of degraded bare Alfisol in North Sudanian Zone of Burkina Faso. Tropicultura, 2016, 34, 1.
Diakhate S., M. Gueye, T. Chevallier, N.H. Diallo, K. Assigbetsé, J. Abadie, M. Diouf, D. Masse, M. Sembene, Y.B. Ndour, R.P. Dick, L. Chapuis-Lardy 2016 Soil microbial functional capacity and diversity in a millet-shrub intercropping system of semi-arid Senegal. Journal of Arid Environments 129 (2016) 71-79
Diallo-Diagne, N.H., Assigbetsé, K., Sall, S., Masse, D., Bonzi, M., Ndoye, I. and Chotte, J.L. 2016 Response of Soil Microbial Properties to Long-Term Application of Organic and Inorganic Amendments in a Tropical Soil (Saria, Burkina Faso). Open Journal of Soil Science, 6, 21-33.
Debenport, S.J., Assigbetsé K., Bayala R., Chapuis-Lardy L., Dick R.P., & B. B. McSpadden Gardener 2015 Shifting populations in the root-zone microbiome of millet associated with enhanced crop productivity in the Sahel. Appl. Environ. Microbiol. 81 (8) 2841-2851 doi:10.1128/ AEM.04122-14

Der Some, Edmond Hien, Komi Assigbetsé, Jean Jacques Drevon et Dominique Masse 2015 Dynamique des compartiments du carbone et de l'azote dans le sol cultivé en niébé et sorgho dans le système zaï en zone Nord soudanienne du Burkina Faso. Int. J. Biol. Chem. Sci. 9(2): 954-969.

Diallo M.D., Guisse A., Sall N., Dick R.P., Assigbetsé K., Dieng A. L. and J-L Chotte 2015 Influence of tropical leaf litters on N mineralization and community structure of ammonia-oxidizing bacteria. BASE : Biotechnol. Agron. Soc. Environ. 19(2), 173-183

Dieye Tidiane, Komi Assigbetsé, Ibrahima Diedhiou, Mbacké Sembène, Lamine Dieng, Mariama Gueye & Dominique Masse 2015 The effect of Jatropha curcas L. leaf litter decomposition on soil carbon and nitrogen status and bacterial community structure (Senegal). J. Soil Sci. Environ. Manage /08.10.15/0528.

Barthès B.G., Penche, A., Hien, E., Deleporte, P., Clermont-Dauphin, C., Cournac, L., Manlay, R.J. 2015 Effect of ramial wood amendment on sorghum production and topsoil quality in a Sudano-Sahelian ecosystem (central Burkina Faso). Agroforestry Systems 89: 81–93. doi:10.1007/s10457-014-9743-0

Deredjian A., Colinon C., Hien E., Brothier E., Youenou B., Cournoyer B., Dequiedt S., Hartmann A., Jolivet C., Houot S., Ranjard L., Saby N. P.A., Nazaret S. 2014 Low occurrence of Pseudomonas aeruginosa in agricultural soils with and without organic amendment. Frontiers in cellular and infection microbiology. doi: 10.3389/fcimb.2014.00053
Educational courses
Organisation of a module on soil functional ecology as part of the BIOVEM, GEDAH and AFECA masters at Cheikh Anta Diop University, Dakar.
Periodic organisation of the MICROTROP summer school (Advanced training in tropical microbiology for early career scientists: soil microbial ecology and ecosystem services), in 2012 and 2014 in collaboration with UCAD, ISRA and OSU.
Contact details
This email address is being protected from spambots. You need JavaScript enabled to view it.IRD Dakar
Tel: +221 33 849 36 4
adress: Centre IRD-ISRA de Bel Air, BP 1386, 18524 DAKAR, SENEGAL